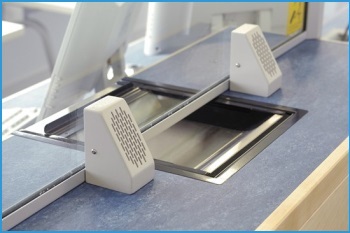 The Speech transfer System – Contacta K002L
The speech transfer system is designed for general locations with moderate ambient noise conditions.
The system comprises of a twin-channel audio amplifier, a power supply unit, a combined microphone and speaker staff unit, a surface mounted microphone module, a surface mounted speaker module and an induction loop sign.
All microphone and speaker modules are available in Grey or Black.
Features:
Full open duplex hands free speech
Natural voice reproduction
Easy installation, particularly suitable for retro-fitting
Robust construction
Integral induction loop facility